Player Operating Directions
These directions will help walk you through operating the Remote Player. Once the installation is complete on your computer, the program will load very quickly using this link.
Link to: ElevatedShots Web-Server DVR Login (If You've Been There Before)
Rather using the Elevated Shots Web-Server to access archived videos OR playing from a CD/DVD disk that you were given when the job was completed, these instructions will help explain the player buttons. The buttons at the bottom of the player are pretty self explanatory of what they do. Play / Pause / Stop etc... The side bar has a few 'Save' type buttons which will give you different ways of saving pictures or videos in different 'windows user friendly' formats.

Click here to download a (single page) easy to print, copy of the following directions
(Microsoft Word Document)
View
Once login is complete the Remote Player opens with the Single View as the default:


This can easily be changed to Quad View or Multi View by clicking on the upper right corner button and choosing from the drop down available.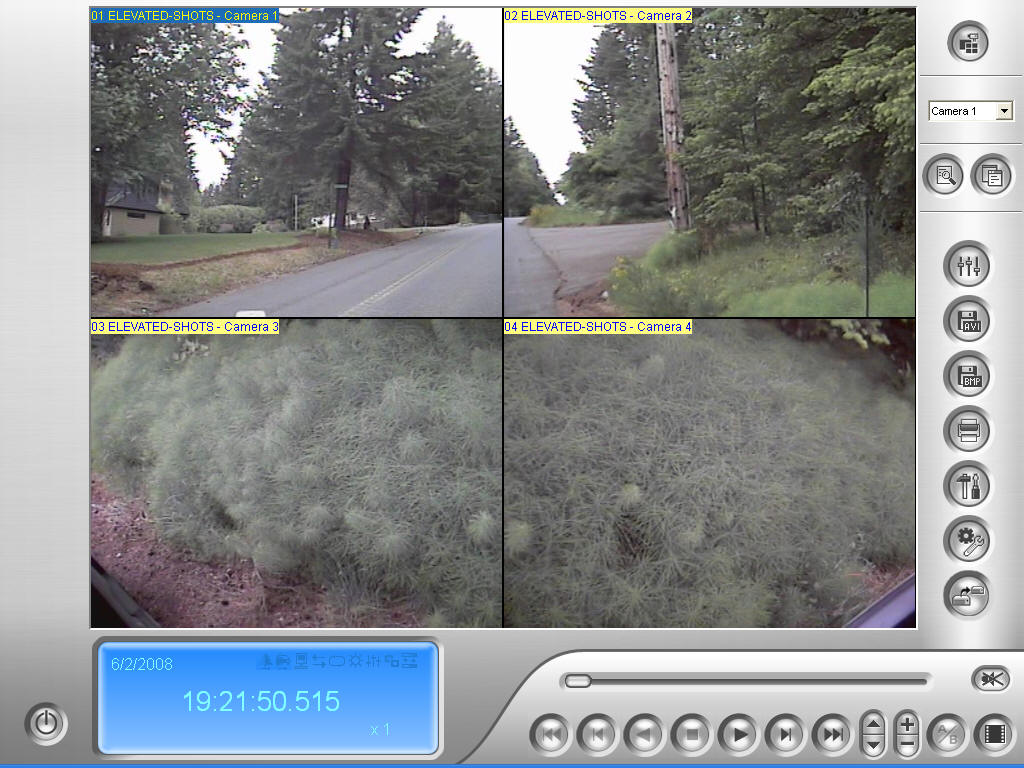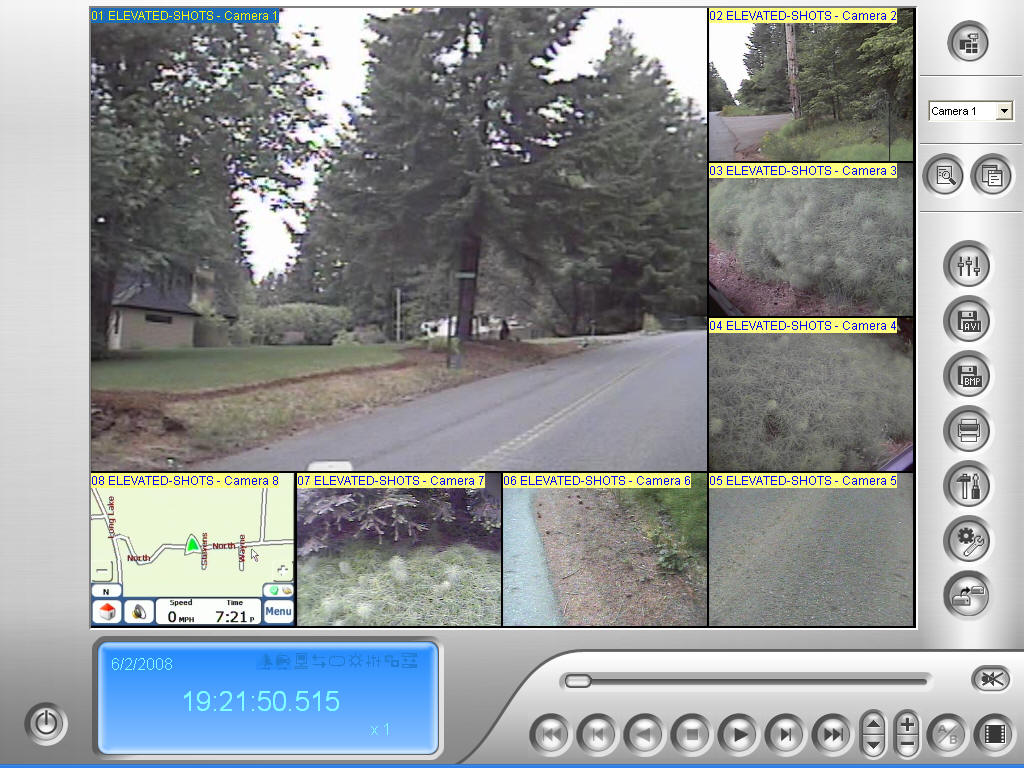 Multi View can change its configuration depending on the quantity of cameras at the time the recording took place.
Each separate camera can be moved to the 'big' spot by clicking once on the small screen. The large screen will change places with the small one automatically.


Lower Buttons
The buttons at the bottom of the player are pretty self explanatory of what they do and how they work. They consist of: Play / Pause / Stop - Fast Forward & Rewind - Next & Previous Frame - End & Home.



There's also the ability to speed it up to x32 or slow it down to x1/8 speed. Zoom in and then zoom back out is also available. The far lower right button enables the change from Frame to Frame or Real Time depending on the flow you want to watch.


Side Buttons



Single / Quad / Multi-View
Left button - Advanced Search Button
Right button - Open & hide Search Side Bar
Advanced camera adjustments:
Contrast / Brightness / Sharpness

Save an .AVI (Video) file:
Saves a short video to play back on Windows Media Player

Save a .BMP (Picture) file:
Saves a single picture of whatever screen is selected

Print a screen shot of all cameras in view directly to your printer
Ability to type a short message that will print on the page

The last three tool buttons are used for advanced setup options

Search Side Bar
(Date & Time of Run)


Button Characteristics

The Play button turns into the Pause button - While playing, click the Stop button and it will take you back to the very beginning of that session (home).

Save and Print buttons are enabled once the Pause or Stop button is pushed - This is required in order to access their functions and capabilities.

Speed Up and Speed Down buttons will stay at the rate they're put until such time the opposite button is pushed for further adjustment the other direction. Default is x1 when the player starts.

Zoom In and Zoom Out act the same as the speed buttons where they will stay, where they are left, until adjusted back. Zoom Out wont work until Zoom In has been active.


In Summery
This program has a lot to offer. It's a very powerful application that is very user friendly to the general user. Capabilities are many and specific tweaking can be made for the advanced user. If you have a specific need that you don't see how to access, please contact us as there maybe something already in place to help tailor to your needs.

Happy Viewing -

When you need a shot looking up or down, you need -


Please contact our sales staff: sales@elevatedshots.com